RESEARCH INTERESTS
Hani El-Kaderi research group entails the design and synthesis of low density and highly porous polymers for use in a wide range of applications including hydrogen storage, catalysis, and sensing. In particular, we are interested in developing new methods to dope porous organic and inorganic polymers with various metals and study their impact on hydrogen storage and various catalytic processes. For example, recent theoretical studies on metal-doped fullerenes showed that such structures exhibit significant hydrogen uptake and therefore represent good candidates as host-materials for hydrogen for future use in clean energy applications. However, synthetic routes to such materials are very challenging and this area remains fairly undeveloped.
El-Kaderi research group will focus on new synthetic strategies to overcome metal-cluster formation and uncontrolled doping levels that can lead to a significantly improved H2 uptake. Our research in this field requires students to master several skills including material design and modeling, synthesis of organic and inorganic compounds, and a variety of characterization techniques including NMR, PXRD, SEM, TEM, etc
​Another research domain of interest is the use of designed polydentate ligands to stabilize metals from the d- and f-blocks for use in catalytic processes such as ethylene polymerization or the activation and functionalization of small molecules like CO2 and N2. Research projects in this area will focus on the design of new pincer- and ansa-type ligands to allow for electronic and steric profile manipulation about metal centers to tune their reactivity. In addition, the inclusion of tethered functional groups in the ligand backbone should provide convenient routes for catalyst immobilization on surfaces for catalyst recovery and reuse.
​1001 West Main Street
P.O. Box 842006
Richmond, Virginia 23284
​+1 (804) 828-7505
Rapid transformation of heterocyclic building blocks into nanoporous carbons for high-performance supercapacitors
Incorporation of benzimidazole linked polymers into Matrimid to yield mixed matrix membranes with enhanced CO2/N2 selectivity
Add News SPalladium Nanoparticles Supported on Ce-Metal–Organic Framework for Efficient CO Oxidation and Low-Temperature CO2 Capture
Effective Approach for Increasing the Heteroatom Doping Levels of Porous Carbons for Superior CO2 Capture and Separation Performance
A cost-effective synthesis of heteroatom-doped porous carbons as efficient CO2 sorbents
Enhanced Carbon Dioxide Capture from Landfill Gas Using Bifunctionalized Benzimidazole-Linked Polymers
From Azo-Linked Polymers to Microporous Heteroatom-Doped Carbons: Tailored Chemical and Textural Properties for Gas Separation
Systematic Postsynthetic Modification of Nanoporous Organic Frameworks for Enhanced CO2 Capture from Flue Gas and Landfill Gas
J. Phys. Chem. C
DOI: 10.1021/acs.jpcc.5b12247
Graphitic Biocarbon from Metal-Catalyzed Hydrothermal Carbonization of Lignin
Ind. Eng. Chem. Res., 2015, 54 (43), pp 10731–10739
DOI: 10.1021/acs.iecr.5b02614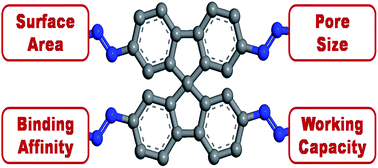 Synthesis and evaluation of porous azo-linked polymers for carbon dioxide capture and separation
J. Mater. Chem. A, 2015,3, 20586-20594
DOI: 10.1039/C5TA04308E
An ultra-microporous organic polymer for high performance carbon dioxide capture and separation
ChemComm
DOI: 10.1039/c5cc04656d
Please reload
Congratulations to Ahmed Abdelkader​ for successfully defending his Ph.D. Proposal.
Congratulations to Shamara Weeraratne for successfully defending his Ph.D. Proposal.
Congratulations to Nazgol Norouzi for successfully defending his Ph.D. Proposal.
Congratulations to Tsemre Tessema for successfully defending his PhD. thesis.
Congratulations to Timur Islamoglu for successfully defending his PhD. thesis.
Congratulations to Fatema Choudhury for successfully defending his Ph.D. Proposal.
Please reload